Regarding Japanese animation Hayao Miyazaki has clearly made a name for himself by creating wonderful works as well as co-founding one of the most well-known animation studios around the world – Studio Ghibli. Founded in 1985, about 35 years ago.
Beyond being an animator, he has proven himself as director, script and screenwriter, author and even as a mangaka. There are many people who are deeply touched by his works, including myself. With this post, I would like to honour him and his works and simply to wish him all the best for his 80th birthday. I also want to thank him for all his hard work during all these years as well as all the wonderful works, he will take part in in the future, too.
While doing a recap of his life or achievements would not do me any good, I would rather like to focus on those of his works that left the biggest impact(s) on me, so far.
Heidi Girl of the Alps (1974) – Layout
One of the first works I grew up with is Heidi, Girl of the Alps. One, which I also chose to be part of my Top 10 Anime challenge, a handpicked selection that quite made an impact on me. Besides, being Swiss myself and frequently even being at Maienfeld – also known as the Heidi village – during my childhood, the Heidi anime made not only a big impact on me, but also on Switzerland itself. Although, the Heidi novel written by Johanna Spyri had been a worldwide success much earlier than the anime from 1974, the World Masterpiece Theatre title brought to us by Nippon animation and Fuji TV left their impact, too.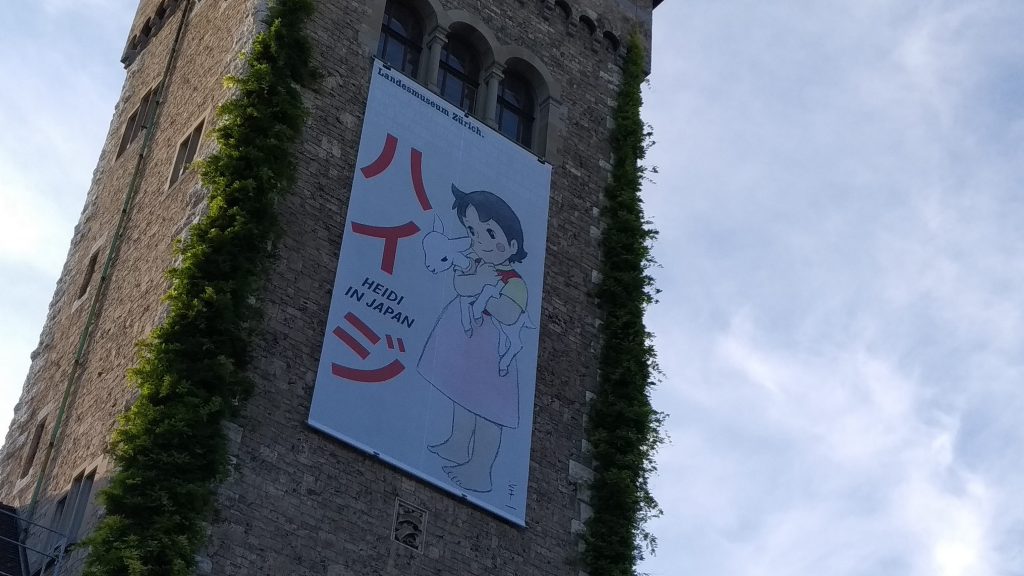 In 2019, we even had a small but nice exhibition held at the Swiss National Museum in Zürich with the name «Heidi in Japan» as well as an international symposium held at the University of Zurich (UZH) featuring many aspects of the Heidi universe; may it be the original or the adapted one.
"The images and ideas of the Japanese anime were based not only on Johanna Spyri's original Heidi books but also on an actual images of Switzerland, gathered through travels in Switzerland in 1973 by a four man Japanese production team: The first time that this experiment was attempted."1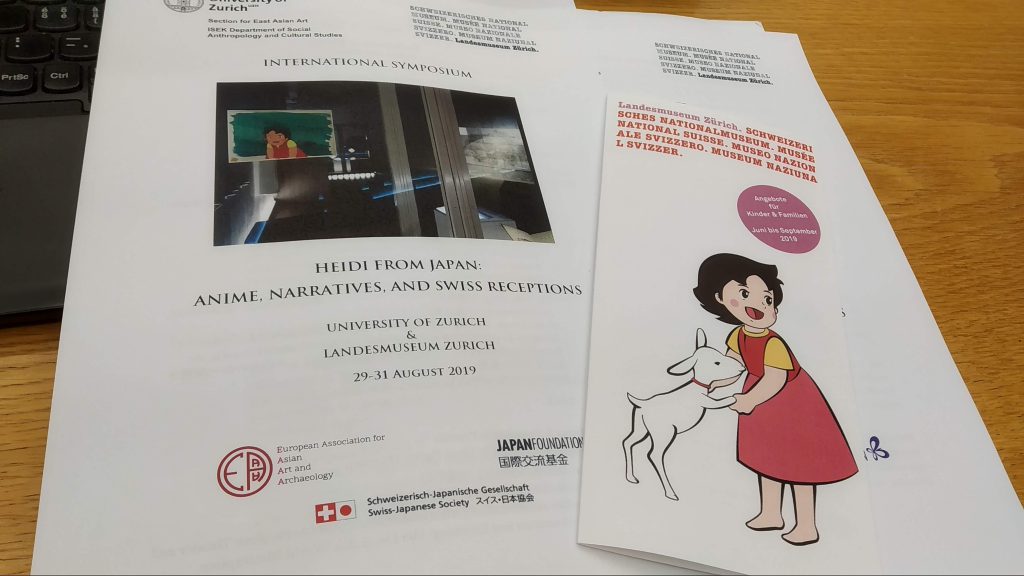 The production committee mentioned none other than being Yoichi Kotabe, Junzo Nakajima, Isao Takahata and Hayao Miyasaki himself. On this journey, they visited Frankfurt, but also several places within Switzerland as well as the Swiss National Museum and the Alps in the eastern parts of Switzerland, Graubünden.
Over the years, I learned more and more about the differences between the original Japanese version and the translated one being broadcasted during my childhood. Subtle differences, sometimes quite surprising ones and it became an even more interesting work to me. Which is why I attended the symposium about Heidi's world and how it impacted our non-animated one, too.
"This anime is especially worth mentioning in the fields of tourism and media studies as a work that created new relationships between anime and tourism – specifically, it gave birth to the culture of location hunting as a part of anime production and to a new form of tourism, namely anime tourism." 2
There is much more which I would like to say or write about this topic, so please let me know if you'd like to know more about the world of Heidi. I'll gladly write up more on it.
Red haired Anne (1979) – Layout
The next work I would like to touch upon is the story of the brave and young red-haired girl Anne. I loved this anime a lot back when I was a child and to somewhat extent I still do. Like Heidi Girl of the Alps is part of the World Masterpiece Theatre works, Red-haired Anne and its sequel Before Green Gables – later being published in 2009 – are as well.
Both works tell the touching and often heart-breaking story of Anne's life, which is for sure not an easy one. Her positive attitude towards all the problems she has to face are able to brighten up one's day. But as bad things happen, good are to come for sure as well. For some, by watching the series, it might even be possible to get a more positive attitude towards problems for themselves.
"Firstly, you will become humble. Then, you will put in more efforts to others from looking down at you. Therefore, one is not relied on how he/she looks like. No matter how one looks, the most important is his/her heart. ~ Hagedy"3
There is much value that can be taken from this type of series and I totally recommend to watch this one as well, it is an older work, but the story as well as the characters included are worth to be seen and experienced.
The Secret World of Arietty (2010) – Screenplay & Planning
One aspect which I really like, shown in many Studio Ghibli movies, is how they let you sink in in the lovely world of the characters. Furthermore, how the story and the characters take you in and leave a specific soothing feeling after not only watching the movie, but taking part in it yourself. Sometimes it's even difficult to tell for me, what exactly it is. Especially, in the case of Arietty. I love her and her world, her relationship with Shou.
Another aspect I really love about that movie is the music, too.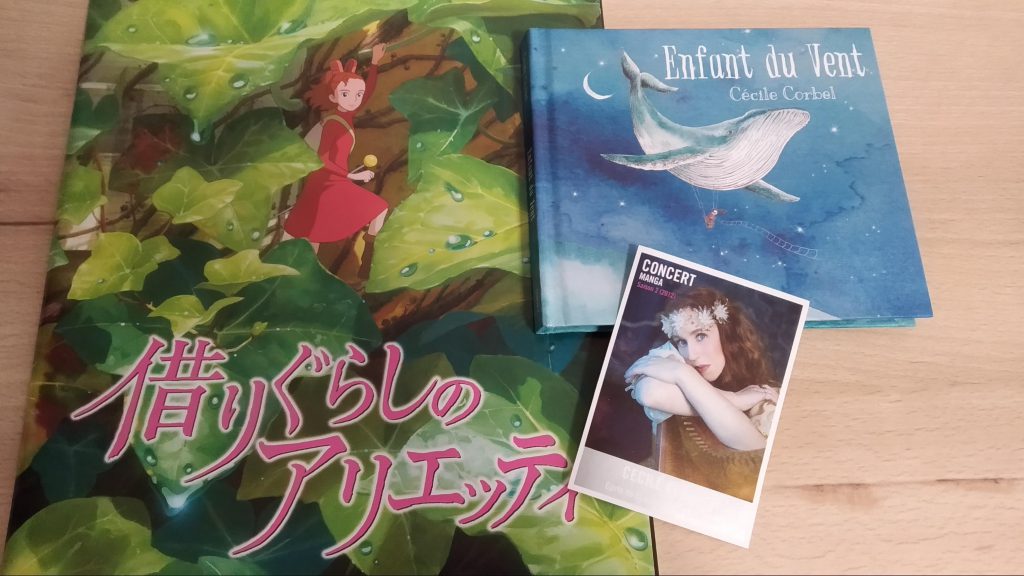 After watching Arietty for the first time, I started to listen to Cécile Corbels music quite frequently for several years and later on, I even met her once in 2019 at the Polymanga in Switzerland, where she mentioned how she came to make music for Studio Ghibli. Can you imagine? She just sent-in a tape and told them how much she likes Ghibli movies and that she would love to contribute music to a future work. Sounds simple, doesn't it?
I know, this has just been a brief insight on those works, but I hope you enjoyed it. As you might be interested in it, here are some of my other Miyazaki favourites: Whisper of the heart (1995), Spirited Away (2001) and From up on Poppy Hill (2011). Please watch all of them if you haven't already and tell my how you liked those! I'm looking forward to it.  And please tell me, if there is anything else you would be interested in. Or maybe which works you would have included?
Warm greetings from Switzerland, Miriam
Sources:
Book of abstracts of the Heidi from Japan Symposium
From the Heidi in Japan exhibition booklet
Red haired Anne (1979)